Matt Gagnon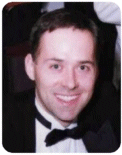 I discovered Matt Gagnon in an airport. Mazu Publishing had an advertisement in entrepreneur magazine for a program called 'Search Engine King'. This was one of Matt's early products. It was a pretty huge ad. It probably cost him a pretty penny.
Until recently, I didn't remember that I had discovered one of my first online 'gurus' in an offline magazine! Matt hates being called a guru. He used to talk to me about getting out of the mentoring business. I don't think he ever will because he is a pretty good teacher. Besides, he likes to teach and give advice. I think he loses money doing this, but he loves to help people. His advice to me has always been excellent. He answers his own phone. I predict he will hit the 'big time' very soon. He will be making a lot more than half a million dollars online someday. When that happens those of us who have been a long-time student of his will remember the 'good old days' when we could actually call him at home.
The day I picked up the telephone and talked to Matt Gagnon is the day I started to think differently about money, about the internet, and about marketing. Sometimes it is just the right guru at the right time. This was true in my experience with Matt. He taught me something I'd heard a thousands times but never really grasped. It was about 'back end' marketing. Matt is really good at back end marketing and teaching this principle to his students. Back end marketing is when you sell a product on the front end and offer another related product after you have sold the first. Like a coffee company selling coffee cups. Like a computer company selling you an internet service provider package once you get the computer home. There are all kinds of back end sales happening everywhere. I just didn't see it.
When I was first mentored by Matt, I was selling electronic water ionizers. They provide clean drinking water. They were expensive units and unfortunately they were direct sales. There was no residual income associated with them. Matt was looking at my website and and asked "where is your residual stream of income"? I said "What's a residual stream of income"? He just laughed. He did buy a water ionizer from me however.
In the end he helped me set up a small sales system where I could potentially 'back end' a consumable product with every water ionizer I sold. I made over 8,000 dollars in bonuses my first 4 months. It was uncanny. I wasn't really trying that hard and I didn't have much business knowledge at the time, I just implemented one extra step.
Could some other mentor have helped me do this? Probably. Would I have heard it somewhere else eventually? Maybe. But I have yet to see the tools and the resources I have been provided with by Mazu publishing, without a bunch of confusing junk mixed in. Many other internet mentors have cookie cutter websites and sell you all kinds of replicated crap. They sell you information created by someone else. They include little or none of their own content on their websites. Matt will give you his honest opinion about any old thing.
What is unique about Matt Gagnon? His lead mentoring system.
What makes Matt completely unique is his lead system. This system is utilized in any industry either knowingly or unknowingly. Matt was the absolute first to ever explain it to me in a way that made sense. I cover this subject more thoroughly in the scam section under 'buying leads'. His explanation is extremely powerful for anyone who is caught up in the 'lead' purchasing scams on the internet. Matt outlined a system that determines the quality of the lead you are buying and generating. His information takes prospecting beyond mere tactical sales and into strategic marketing. It gives you a real sense of when you are wasting your time with a lead and when you are not! By judging a lead based on the way the lead was acquired, Matt proposes a level 0 thru 6 system to determine how 'hot' a lead is and what its worth. Level 3 and 4 leads have already purchased something or raised their hands to order a copy of your business model. Mazu generates these types of leads. matt has generated hundreds of these types of leads for my business and taught me how to 'fish for myself'.
We have a system set up called 'Direct Networking' that will allow you to participate in the power of this system. Matt will go into more depth about it in his Home Business Success Seminar. Order your copy.
If I had one criticism of Matt, it would be that he sometime multitasks to his detriment. This is probably a compliment as well. This guy is really busy! He is always writing a new books and working on yet another project. Fortunately I have been able to make money from his hard work. You can also profit from this guys genius by contacting me at 608-345-7403. I am a Mazu Partner and will show you a terrific system. You will have to see it to believe it. Business Systems Automated exists partially because of the educational process Mazu has provided.

BSA gives
Matt Gagnon